Compact Design For High Performance Workstations
LIFE UPS provides high performance workstation protection, preventing data loss, increasing your systems lifespan and improving productivity.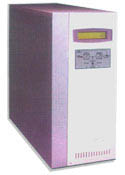 Full-time Surge Suppression and Noise Isolation Protects your hardware
Full-time surge suppression prevents catastrophic hardware damage and extends system life, EMI/RFI filtering prevents electrical noise from affecting computer operations or corrupting data files.
Automatic Voltage Regulation increases productivity
The LIFE UPS Automatic Voltage Regulation (AVR) provides reliable continuous operation during brownouts and over-voltages, ensuring smooth power for your system and eliminating unnecessary battery drain.
User - Replaceable Batteries
The user can change hot-swappable, User-Replaceable batteries without powering down the connected equipment. This saves time and expense of returning the UPS to the factory for battery service. Batteries typically last for 3-6 years.
Intelligent Battery Management for higher reliability and longer battery life
Microprocessor controlled circuitry, monitors battery performance and maximizes battery life and uptime. AVR, Fast battery charging and battery discharge protection extend battery life while, automatic 14-day self-tests and reporting keep you notified of battery status. Batteries last longer and warning is provided before they wear out.
Battery Replacement warning prevents downtime
Rather than waiting for a power failure, FRONTLINE's LIFE UPS will automatically inform you when the batteries need to be replaced. Both a LED and an audible sound will warn you that runtime will be reduced.